Even those with parking violations expertise like NYC Ticket Fighter have taken pause when trying to interpret the parking signage of yore.
This past Monday marked the debut of newly designed and simplified parking regulations signs in Midtown and Lower Manhattan, replacing 6,300 signs of varying colors, typefaces, font sizes, language that required a "Ph.D in parking signage," according to NYC Council Member Daniel R. Garodnick.
NYC DOT Commissioner Janette Sadik-Khan remarked that "New York City's parking signs can sometimes be a five-foot-high totem pole of confusing information. Parking signs play an important role in setting the rules at the curbside and these changes will make regulations easier to read and take the stress out of figuring out where and when you can legally park."
Pentagram Design worked with DOT on creating a consistent layout, reducing wording to Twitter-length from 250 to 140 characters, placing the day of regulation before the hours, eliminating abbreviations – overall, making the signs shorter and easier to read.  You'll also notice the elimination of the "Pay at Munimeter" signs, since the phasing out of the old single-space parking meters in 2011.
Before / After pictures: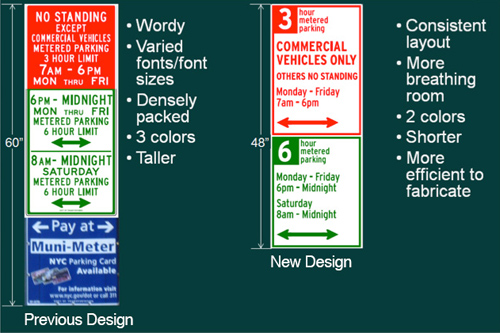 http://www.nyc.gov/html/dot/html/pr2013/pr13-02.shtml
If you have received a parking ticket because of poorly marked signs you should plead not guilty! Commercial fleets are welcome to contact a New York City Ticket Fighter to discuss how we can reduce your parking ticket expenses.